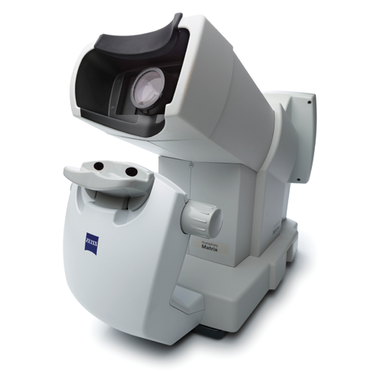 Humphrey Matrix 800
Product ID:
266002-1136-161
Humphrey Matrix® 800 for early visual field loss detection
Proven to find early visual field loss. Quickly. Easily.


Operating a visual instrument doesn't get much easier than Humphrey Matrix®. It provides the ideal solution for busy practices for case detection and fast threshold testing. In addition to simplifying visual field test in, numerous studies show that frequency doubling perimetry can detect visual field loss missed by others methods.
$ 15,950.00
Excl. tax & shipping
Description

Validated clinical performance

> Proven diagnostic performance in detecting early visual field loss
> 15% faster threshold testing on average and up to 70% faster for more advanced cases
> Video eye monitoring and comfortable chin rest simplify patient alignment and fixation monitoring
> Patient-friendly stimulus eliminates the need for trial lens correction in most patients 

Designed for your practice

> Humphrey ® Field Analyzer (HFA) style reports are simple to interpret
> Light-weight, compact and portable
> Simple operation
> Ability to test in normal ambient light, no darkened room required
> Connectivity to office networks, EMRs and Forum® Eye Care Data Management System


WEB.7851 

Technical Data

Standard Delivery Package

The standard delivery package for the

ZEISS Humphrey Matrix 800

includes:

| | |
| --- | --- |
| 1 Matrix 800 | |
| 1 keyboard/touchpad USB | |
| 1 dust cover | |
| 1 patient button assembly | |

Note:

Printer is not included

FAQ

Further Information

Learn more about the Humphrey Matrix 800

Standard Delivery